Agenda
Print page
Please see below the latest agenda for this year's Internet of Things Global Summit.
This page is updated regularly so please check back for additional speaker confirmations.
If you are interested in speaking opportunities, please contact the event manager Tom Chinnock at tom.chinnock@forum-global.com or on +44 (0) 2920 783 025.
Please note that over the course of the two days, there are a number of sessions that will take the format of an interactive panel discussion. For these sessions, each speaker will have 5 minutes at the start of the session to provide introductory remarks. Following this, the session's moderator will then open up the discussion, which will also include questions from the floor.
Speakers marked with an asterix (*) are to be confirmed.
Monday 27 October, 2014
Tuesday 28 October, 2014
Morning
Discussion: Beyond Cost Savings - Forging a Path to Revenue Generation

Moderator: Nigel Cameron, President and CEO, Center for Policy on Emerging Technologies

Eric Openshaw, Vice Chairman & Global Technology Leader, Deloitte & Touche LLP
Craig Wigginton, Vice Chairman & Global Telecoms Leader, Deloitte & Touche LLP
Session 3: Managing the spectrum needs for the Internet of Things
Wireless communication is an essential component to the IoT's infrastructure. It is used for various IoT applications in homes, cities and the power grid. With more and more connected devices being commercialized, there is an increasingly higher demand on available spectrum, which is ultimately putting a strain on the growth of the IoT market. Existing technologies are not able to accommodate the forecasted demand for wireless connectivity, and therefore new technologies and approaches are required.

- What are the main regulatory considerations for managing the spectrum requirements of the future?
- To what extent can shared solutions be used to meet the needs of the future IoT?
- What spectrum bands can be used to help provide a solution to the high demand?
- To what extent can WRC-15 be expected to address the spectrum needs of the future for industries such as IoT?
- What technologies are helping manufacturers to add wireless connectivity to their products? What role can Wi-Fi play?
- To what extent can satellite communications play an important role in an increasingly connected environment?
- What are the current factors affecting Quality of Service (QoS), predictability and spectrum costs?
- What role can 'Small Cells' play in metropolitan and rural areas?

Interactive panel discussion: Each speaker will have 5 minutes at the start of the session to provide introductory remarks. Following this, the session's moderator will then open up the discussion, which will also include questions from the floor.

Moderator: Anna Gomez, Partner, Wiley Rein LLP

Julius Knapp, Chief, Office of Engineering and Technology, FCC
H Nwana, Executive Director, Dynamic Spectrum Alliance
Charla Rath, Vice President - Wireless Policy Development, Verizon
Philip Marnick, Group Director - Spectrum Policy, Ofcom U.K.
Hazem Moakkit, Vice President of Spectrum Development, O3b
Session 4: Architecting the Internet of Things: Sensing, Networking and Analytics
At their basic level, IoT solutions are comprised of sensors, networks and analytics that combine to support the generation and delivery of information that drives value to consumers. Approaches to the design of IoT system architectures and their components can vary based on operational requirements related to cost and performance. These include both centralized computing architectures, that support the collection and processing of large volumes of device data in the cloud, and distributed approaches where the analytical processing of sensor data is conducted at the network's edge.

- What are the key trade-offs between centralized and distributed IoT system architectures?
- What are the technical challenges to communicating and centrally processing data from potentially billions of connected devices?
- What new technologies in networking and cloud computing are addressing these challenges? Who are the key players?
- How can distributed computing approaches improve IoT system performance? What business opportunities does this approach offer?
- What types of new devices are required to enable a new generation of distributed IoT system architectures?

Interactive panel discussion: Each speaker will have 5 minutes at the start of the session to provide introductory remarks. Following this, the session's moderator will then open up the discussion, which will also include questions from the floor.


Moderator: Tom Davenport, President's Distinguished Professor in IT and Management, Babson College; and Senior Advisor, Deloitte Analytics

Gary Butler, CEO, Camgian Microsystems Corporation
Xiaolin Lu, Fellow and Director of IoT Lab, Texas Instruments
Steve Halliday, President, RAIN RFID
Sky Matthews, Chief Technology Officer, IBM
Afternoon
Session 5: The 'People' side of the Internet of Things: Meeting consumer expectations
More and more consumer focused IoT applications and devices are being rolled out in order to satisfy an ever increasing demand for innovative new products and solutions. Alongside this, the creation of an environment of trust and confidence both in IoT systems and the security of the data that they generate is key to widespread social acceptance.

- What new devices and upcoming trends are we seeing, and how are manufacturers helping to ensure people's widespread trust?
- What benefits can be delivered to consumers (as well as industry) through maximising the potential of the data generated by IoT technologies and services, and what potential does data collection and data-driven innovation have for growth and jobs worldwide?
- How do we define the uncertainties associated by data collection and what role can all stakeholders play in ensuring the security of the data that is generated?
- What scope do IoT products and data-driven services have to empower consumers and improve people's everyday lives?
- What efforts are currently being made, and what work still needs to be done, to help close the gap between the technological side and people side of IoT in order for users to fully trust these systems and meet their expectations of data and identity being secure?
- How can technologists and engineers demonstrate the potential and benefits of IoT technologies to consumers in a way that is compelling to policymakers?

Interactive panel discussion: Each speaker will have 5 minutes at the start of the session to provide introductory remarks. Following this, the session's moderator will then open up the discussion, which will also include questions from the floor.


Moderator: Dan Caprio, Senior Strategic Advisor, McKenna Long & Aldridge LLP

Mark Eichorn, Assistant Director, Consumer of Bureau Protection, FTC
Daniel Castro, Senior Analyst, ITIF; and Director, Center for Data Innovation
Linda Sherry, Director, National Priorities, Consumer Action
Stephen Pattison, Vice President, Public Affairs, ARM Holdings
Afternoon Networking Break
Session 6: Standards - the bridge to innovation
In order to take IoT to the next level, co-evolution and collaboration across different sectors and environments is required. IoT is not limited by lack of innovation and imagination, its full potential is hindered by the need for greater interoperability of common standards.

- What standardization and regulatory challenges are faced as we look to develop on infrastructures to enable the potential of IoT to be achieved?
- How will a common set of standards and a more unified approach enable greater interoperability?
- What current efforts are being made by industry, policymakers and academia?
- Is there a need for a global set of standards?
- What is the future role of 'open source'?
- How can it be ensured that standards are 'future-proof'?

Interactive panel discussion: Each speaker will have 5 minutes at the start of the session to provide introductory remarks. Following this, the session's moderator will then open up the discussion, which will also include questions from the floor.

Moderator: Alain Louchez, Managing Director, Center for the Development and Application of Internet of Things Technologies (CDAIT), Georgia Institute of Technology

Steve Bratt, CTO and President, Standards Development, GS1 Global
Oleg Logvinov, Director, Special Assignments, STMicroelectronics, Chair, Working Group - Standard for an Architectural Framework for the Internet of Things, IEEE
Clarke Stevens, Board of Directors and Technical Chair, UPnP Forum and Principal Architect, CableLabs
Brian Vogelsang, Director, Product Management, Qualcomm
Yi Zhao, Vice President, Standards, Futurewei Technologies, Inc. (Huawei R&D USA)
Closing remarks and conference summary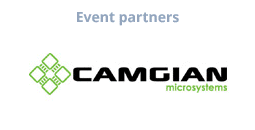 Logistics
When
Mon 27 October, 2014 09.00 to
Tue 28 October, 2014 17.00
EST
Where
529 14th St. NW,
13th Floor -
Washington, DC 20045
Tel: 1202-662-7500
Downloads